Modeling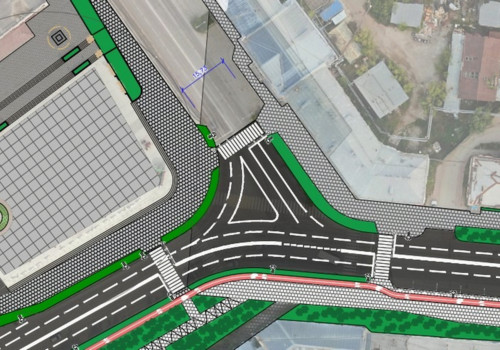 Microscopic modeling
We use SUMO ("Simulation of Urban Mobility") to evaluate traffic management solutions or the effectiveness of traffic management systems. Our benefits:
High speed simulation, which allows you to study the traffic at a single intersection, as well as in a city district or on the transport network of the whole city;
Simulation of the dynamics of transport demand of the simulation object from a few minutes to a day;
Detailed analysis of simulation results;
Evaluating the effectiveness of traffic control systems under development.
Optimization of operation modes of traffic light facilities
We use in-house developed software;
The signal plans are calculated for the whole day, with reference to the periods of activity of individual programs;
Are used the data from manual traffic counts or from traffic detectors;
Post-processing of survey data: filtering outliers, smoothing, filling in missing data;
Calculation of coordination plans for networks of arbitrary configuration;
We have developed a unique calculation method that provides an optimal balance of flows in the control area and prevents network traffic congestion;
Calculation of latency and level of service according to HCM2010.
Adaptive Traffic Management
Our software allows you to organize the calculation of modes of operation of traffic lights in real time:
does not depend on the specific manufacturer of the equipment and ADMS;
uses a variety of sources of transportation demand data;
for calculations uses a statistical model of the transport network load, which allows you to organize adaptive control with a minimum number of transport detectors;
provides network-based adaptive traffic control, including coordinated control and congestion avoidance mode.